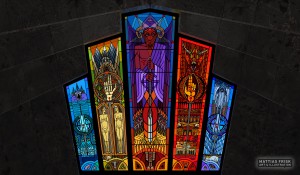 A lot of people have been asking me about the symbols in the backdrop design I made for the Swedish band Ghost so here is a small guide to the images in it and how it was made.
From my meeting with the clergy concerning this job I got quit few guidelines about the content but regarding the overall design there were some demands that I had to work from:
It should be based on an art deco window design with five windows.
The windows should be framed by marble
Satan should be in the middle.
There should bee a reference to the five wounds of Christ and to Adam and Eve as well if possible.
The clergy explained to me that I should think of the design as if being in a fancy office with these churchlike stained glass windows, so I decided to keep the design very modernistic and rely a lot on distinct form instead of making a romantic interpretation of the baroque, renaissance or medieval visual rhetoric's. The silhouette of the windows made it quite tricky to keep a balance as a whole and even more inside each window. The shape of the windows were designed in CorelDraw ( I used to work a sign maker, we used CorelDraw for everything and I still think it's so much faster than Illustrator). After printing the shape I started to work with pencils. When I was done I took a photo of the design and cleaned it up a bit in Photoshop and then colored the whole piece digitally.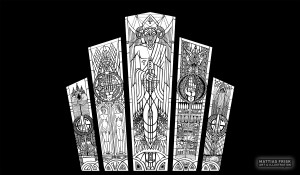 I then experimented a bit trying to remember how we marbleized papers back in elementary school and got some decent looking results. I scanned them and adjusted the colors and built the wall in Photoshop.
The overall design is based upon the five wounds of Christ accompanied by nails, and for the middle panels the lance of Longinus in the hands of our mighty lord Satan, bringer of light and destroyer of worlds. I decided to go with the five elements as an overall theme for the window, one element represented in each window, from left to right, water, earth, aether, fire and air (each nameless ghoul has been given an element so I thought that it was a good idea).
Panel 1 – Water
Leviathan with an oil rig on his back that drills for oil at the bottom of the panel. In the middle of the panel there is a foot with a wound and below it a nail. Kraken and some (dead Jesus) fish.
Panel 2 – Earth
Sunset over the mountains and an entrance of a mine. The shapes also echoes skyscrapers and represent the dusk of civilization. Below is the sign of the Grucifix surrounded by a worm and a skeleton hand with a wound. A sprout and a fresh and a dead leaf represent the path towards death. To the left an hourglass with all sands at the bottom and to the right a rat and underneath Adam and Eve resting in their casket, divided by a nail. At the unlucky couples feet there is a skull an apple, a spider a rat and a snake.
Panel 3 – Aether
Satan in a purple robe, the color of emperors and kings. Each point of the pentagram halo has a sign that represent one of the elements. In His hands he holds the lance of Longinus that made the lethal wound in the side of Christ. The lance is surrounded by a shape that both echoes a flame and a drop of blood, to the left and the right the armies of Pandæmonium and beneath them a Chalice.
Panel 4 – Fire
A dragon above an infernal mandorla that surrounds the left hand of a demon. Beneath the mandorla there is a nail and from the bottom of the panel to the top the nine circles of hell are represented.
Panel 5 – Air
Smoke above chimneys and a skyscraper above the clouds. A foot with a wound and a nail under it and a bat above a sacrificial lamb upon a pyre flanked by two empty bird cages.
Some time ago I was asked to make a shirt design for Under the Church and I guess they liked it since they asked me to do the cover art for their first full length album Rabid Armageddon. Initially the process was quite slow, the band had an idea that I did some sketches on. While trying out the bands idea I found an old sketch that I played around with a bit and sent them. Actually I think I made it while trying out brushes in Photoshop, a Friday afternoon doodle. Both Pulverised Records and Under the Church liked it and we decided to choose that path instead. I think it was more in line with the music and it's quite a simple design which often is good for making the album art easy to recall and remember. I think it looks like a cover for an eighties horror book or something.
The recording is grim and dirty plain old school death metal so my goal was to create something expressive and threatening rather than a nicely drawn illustration. Since I wanted it to be ruff and dirty I decided to paint it by hand in oil on panel. I experimented a lot with the underpainting using a black base and withe pens, acrylics and even some air-brush that I actually have no idea at all how to use but it worked well when shading the clouds. The oil painting was more like tinting the underpainting. I used a lot of medium to make the paint transparent and did a couple of layers. Finally I did some digital highlights and adjustments before putting the whole layout together.
Kenotaf [ke-] gr. kenota'phion, av keno's = tom och ta'phos = grav, skengrav, gravmonument rest till minne av avliden vars kvarlevor har gått förlorade eller har jordfästs på annan plats.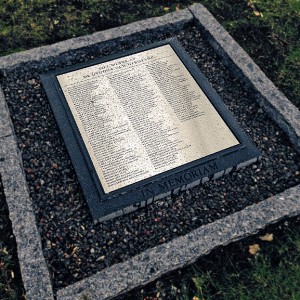 Bakgrund
Sedan 2010 har Mattias Frisk arbetat med en rad olika verk som behandlar människans relation till naturen, livet och döden. Genom att använda gestaltningsformer som normalt förknippas med de ritualer och platser vi brukar i samband med döden – exempelvis det sakrala rummet, begravningsritualer och de efterlevandes platser för minne – har Frisk sökt förmedla allvaret i den situation naturen och mänskligheten nu tycks befinna sig i.
En central tematik i flera av dessa verk är den stora mängd fågelarter som dött ut de senaste 500 åren. Den första offentliga manifestationen i raden av verk på temat var en utställning med titeln "Utdöda fåglar" på galleri Kraftverk i Mjölby. Därefter följde en utställning och performance i Motala konsthall – "Minnesmässa för utdöda fåglar" – av vilken delar levde vidare i en mindre installation – "Temporär kenotaf" – på JR konsthallen i Linköping. Verk från utställningarna har även visats på Norrköpings Konstmuseum som del i en samlingsutställning.
I arbetet med dessa utställningar växte tanken fram om en mer varaktig verk i form av en minnessten för utdöda fåglar. Projektet har kunnat realiseras genom stöd från regionförbundet Östsam och Finspångs kommun där minnesstenen nu finns i Bruksparken.
Minnesstenen
Fåglar har länge valts som symboler för olika centrala företeelser i människans tillvaro, födelse, död, fred, olycka och så vidare. Dronten (Raphus cucullatusutdöd på 1680-talet), vars namn finns med på stenen har kommit att bli en populärkulturell symbol för just utdöda arter. Av alla nu levande fågelarter står närmare 13 % inför hot om utrotning (1244 av 9856 enligt webbsidan the Sixt Extinction, 2012) och under de senaste 500 åren har ett stort antal arter av fåglar redan dött ut. Enligt the IUCN Red List of Threatened Species uppgick år 2012 antalet till 132 stycken, exklusive underarter. Namnen på dessa 132 arter har graverats på en plakett av rostfritt stål som blivit fäst vid en ca 85×75 cm, ca 300kg tung, massiv granitsten. Minnesstenens enkla och strama utförande har valts för att i möjligaste mån undvika att skymma verkets innehåll: de utdöda fågelarterna. Här finns inga förskönande visuella omskrivningar eller illustrationer utan endast var arts latinska namn, ett namn givet av människan och i de allra flesta fallen en existens fråntagen av människan på grund av vårt agerande.
Vi bygger monument över enskilda personer men minnesmärken över utdöda djurarter lyser med sin frånvaro. Konstnärens förhoppning är att minnesstenen skall väcka tankar om naturen, vår plats och del i den samt skapa en sekulär plats för kontemplation.